Stop Expecting Others To Come Up With Story Ideas, That's YOUR Job
Stop Expecting Others
To Come Up With Story Ideas, That's YOUR Job
"So, who has some story ideas for (insert topic, season, month, holiday)?"
Lately, I've seen this question, or variations of this question, being posed in reporter and news-based Facebook groups and forums weekly, almost daily. While I understand being stuck in a rut, and needing to reach out for some advice every now and then, but when it comes down to it…coming up with story ideas…well, that's your job.
Again, I can completely relate to feeling like you've plateaued, and I can relate to needing some inspiration. I'm not saying don't ask for help, but there's a difference between asking for some guidance and flat out asking for story ideas.
The thing is, a lot of the time, there are Assistant News Directors, News Directors, Hiring Managers, and General Managers in those groups too! Even if those folks aren't members, there are probably producers, EPs, and other reporters who will "spill the tea" to those mangers. 
If you're having trouble finding story ideas
then you're not involved enough in your community.
When I say "involved" that doesn't mean you have to join every board and be on every committee. It simply means, go out into your community and be observant.
Some reporters and anchors I know get in their car as soon as their shift is over, drive straight out of town, and go spend their weekend somewhere else each week. Now, do you have to spend every weekend in your city? No. But maybe spend at least one weekend getting to know your city.
Yes, you can do this even if you work in a "small town where there's nothing to do" or at a bureau. People can be a great way to get story ideas…but you have to talk to them first. A lot of times, they'll come up and tell you what's on their mind.
One of the great things about being in news is that people feel connected to us even if they don't know us personally. They see us on TV, or on social media, and they notice when we're out and about.
If people feel like you don't care about the community, they'll never feel that connection with you. Then, honestly, you are the one who is missing out.
If they don't know who you are ("Hey, you're the reporter from my favorite station!"), maybe it's because you never attend any community events or go out to eat at the local restaurants.
So, here are some ways you can get a bit of insight and find some story ideas. You should be able to answer these questions off the top of your head:
          1. What makes your city unique?
          2. What is a cool/historical story about your town?
          3. What are some fun facts about it?
          4. What makes tourists go there?
          5. Which companies are the largest employers?
          6. Is there one industry that is the driving force for the economy?
          7. Which events make the most money for that city?
          8. Who are the major players in that city? Do they have "cool" stories about how they got there or wound up in that position?
9. Are there any new businesses coming there? If so, which ones?
          10. Where are the "hidden gems" within the city?
          11. What is the city's culture? What makes everyone do that certain thing, or act that certain way?
          12. Are there "underground/silent" groups or cultures? (Examples: hardcore skaters who meet on Tuesdays at 1 a.m. or artists who secretly meet to fix up neighborhoods. Yeah, sounds crazy, but hey….you never know.)
          13. What do people do for entertainment? (Yes, this even applies to towns with "nothing to do." People have to do something to be entertained, so what is it?)
          14. Is there an industry or service (housing, entertainment, etc.) that's lacking in the city?
          15. What's the greatest need there?
          16. Are there groups who are fighting something (climate issues, corruption, etc.)?
          17. What are the citizens' major concerns?
Those are just a few starter questions. If you can't answer them, it's time to start researching. If you can answer them, have you done stories about each topic? How can you expand on, or follow up on, previous stories?
The main message here is: Don't ask someone else to do YOUR work for you!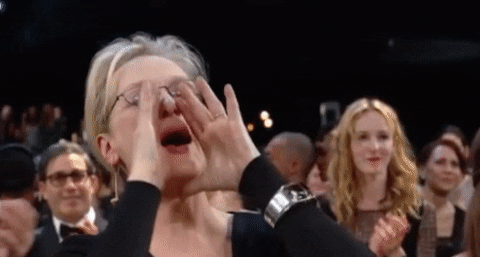 Finding stories is kind of a reporter's "thing," you know? You also never know who is taking note of your posts, and chalking it up to lack of preparation or laziness on your part.
I'm saying this again, just to clarify…I'm not telling you to NOT ask for help, watch another reporter's stand ups, or watch other newscasts. Those are all great things to do!
We should always work to improve our skills all the time, and paying attention to what others do can help in that process. I'm simply offering the advice that taking the easy way out will eventually come back to bite you. It will get you noticed, but for the wrong reasons.
It's your job to push yourself, hold yourself accountable, and improve the skills you already have. Seek inspiration, but don't be a copycat. Ask for guidance, but don't be lazy. 😉