Want To Be A News Reporter, But Was Offered a Job As A Producer?
Want To Be A Reporter,
But Was Offered a Job
As A Producer?
I turned down my very first job offer in TV news.
I was a 22-year-old who was eager to land a job as a reporter. The job offer was in a Top 100 market, and it was close to where I went to college so I would still be near my friends.
I interviewed at the station, liked everyone I met, and was excited about possibly working there. Then, I got the offer…
It was for an associate producer job with the "promise" that I could report when I had time. It was a part-time position, paying $14,000 a year, and the boss told me I would need to waitress when I was off to afford living in the area.
I considered the job, because it was a job. The problem was, my passion was not producing. I wanted a reporter job.
I turned down the offer, and I am so glad I did.
A month later, I landed my first on-air reporter/anchor job in a small market. Eleven years later I'm still anchoring and reporting, but now I'm in a Top 50 market.
I often hear from people who ask if they should take a producer, assignment editor, photographer, or web job at a station just to get their foot in the door. For some people, this does work.
I know a girl who took a job as a writer in a Top 10 market, and now she's a reporter. I also know someone who took a producer job in a Top 25 market and now she's an anchor.
On the other hand, I know a lot of people who took jobs because they wanted a foot in the door, and they're still in those same positions years later.
The station I work at always tells people they can take a producer job, and end up on-air. It has never happened. So here are a few things you'll want to consider before taking a job that's not the position you WANT in a newsroom…
1. Will your ND put in your contract that you can report?
🗣️ If it's not in writing, it's probably never going to happen!
If your boss tells you that you can report on your days off, or when someone is sick, make sure that's in your contract. Bosses are notorious for telling you what you want to hear during an interview, and many of them never plan to follow through on those promises.
If they won't put it in your contract, don't be surprised when you're still producing by the time your contract is up.
2. Have other people transitioned to other roles in the newsroom?
Ask current, and former employees of the station, if they can think of anyone who moved from a producer to a reporter role.
If the answer is no, then your luck probably won't be much better. If the answer is yes, talk with that person to find out how the process worked and what you should do to make sure you get that same opportunity.
3. Are you OK with being a producer?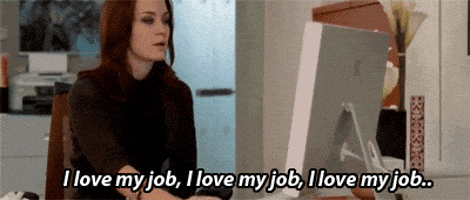 This goes for any position.
At the end of the day, will producing (or whatever the position is) make you happy? If not, you should say no.
If you have no desire to produce, but you're doing it in hopes of getting on-air eventually, you're going to be miserable. That's not good for you or the rest of the team.
4. Why are you settling for this job?
You want to be a reporter. So why are you settling for a producer job? Is this your dream market? Dream station? If it is, then I understand wanting to take any job to be a part of the team.
If it's not, then what the heck are you doing?! Don't give up and take a job just because you got an offer. Keep sending out reporter reels, keep calling news directors, and keep networking to find the position you want.
5. What's the growth potential?
I have a friend who switched from reporting to producing. A lot of people thought she was crazy. She did it because she ended up with better hours, more money, and now, a management position. She still gets to tell stories and she has way more control over the news product as a producer.
She is happier now than she's ever been in her career—and, trust me, she NEVER thought she would want to do anything other than report.
If a certain job will give you more personal happiness and professional growth, definitely consider it.