5 Easy Ways To Create A Great Relationship With Your Photog
5 Easy Ways To Create
A Great Relationship
With Your Photog
Written by News Gal
🕒 October 9, 2018
If you're lucky enough to work at a TV news station that pairs reporters with photographers, you should be very thankful.
These days, it seems like so many stations are going the route of MMJs (multi-media journalists). For those of you not in the business, MMJs have to shoot, write, and edit all of their own stories.
In too many cases, these reporters are also required to operate their own live shots, which is stupid and extremely dangerous.
I always feel bad when I'm out in a sketchy area of town, knocking on doors, and I see one of the reporters from the other stations show up alone.
Photographers have helped me so much, and not just with the demands of the job.
When a pit bull was chasing me down a rocky road, my photographer made sure I got to the car safely. When a teenager pulled a gun on me at a scene, my photographer made sure I was safe.
When I was pregnant, my photographers always made sure I had water and plenty of bathroom breaks. Heck, I love photographers so much, I even married one.
If you work with good photographers, they take your stories from boring to entertaining. They can make even a school board meeting look interesting with the use of creative shooting and editing.
Great photographers have a great eye for detail and a great ear for nat sound. A great photographer is also invested in the story and wants to help make it the best it can be.
They have stressful jobs though and reporters can sometimes get on their nerves. So if you want to have a good relationship with your photographer, here's my advice:
1. Ask them their ideas.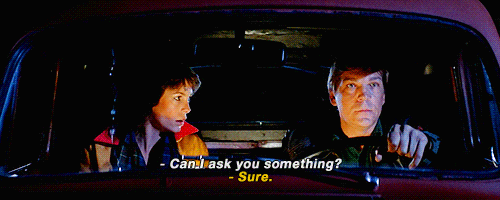 When you're on the ride to your story, make sure you're talking about what it is. Toss ideas back and forth about where you could do interviews or what nat sound opportunities there might be.
While you're at the story, ask the photog where he or she thinks the interview will look the best, and when you're on the ride back to the station talk more about your plan for the story.
2. Carry some of the gear.
This might sound really simple, but it goes a long way. Some of the older photogs will probably tell you no, but you might as well ask!
The camera, tripod, and lights can really add up in pounds, and it gets tiring for the photog to carry all the gear all of the time. I usually carry in the light stands and lights for my photographers.
We're a team—we should both do some of the heavy lifting.
3. Buy lunch.
It doesn't literally have to be lunch, but buy your photog something every now and then. Get them a coffee or soda while they're at the gas station filling up the tank. Offer to buy lunch.
Bring in some homemade cookies and give a few to the photog. They drive reporters around all day, listen to our life problems, and make us look good on camera—the least a reporter can do is give them some food!
4. Learn from them.
In my experience, photographers love to answer questions about the fundamentals of what they do.
Next time there's a lull in your conversation, ask about when he or she turns on the shutter, find out which transitions are their favorites, and ask what their favorite types of stories are. Asking questions shows you care and you're interested in what they have to say.
5. Say thank you.

I can't stand when I hear a reporter talking about how good their story is, but not giving the photographer any credit.
I always thank my photographer. I say thank you when we get back to the station, I say thank you when the story is ingested, and I say thank you after I watch the piece. A little kindness can go a long way.
These are just a few of my tips. Remember: photographers don't come to work to work for you. They come to work to work with you. You're a team, don't ever forget that.