What You Need to Know Before Applying for Your First On-Air Job
Written by News Gal
🕒 May 5, 2018
"I want to be a news anchor because people tell me I'm pretty."
That's an exact quote a college senior said to me a few years ago after I was a guest speaker for her class.
I remember looking at the pretty, well-dressed 22-year-old and telling her that she'll likely need to get her foot in the door as a reporter first, and then move to the anchor desk.
I was really proud of myself for not rolling my eyes.
She looked at me like I was crazy. She told me that she's the best anchor in her class, and she has been applying to Top 50 markets.
I wished her well, and gave her my card.
She is like so many 20-somethings who graduate college and think they know it all.
Newsflash: You don't.
You have no idea what working in a real newsroom is like. I don't care how many stations you've interned for, or how good your mom and dad say you are, you are not Savannah Guthrie and you're not Lester Holt.
Since it's college graduation time, I thought I'd give you some tips on life after college.
I remember what it was like to graduate, and look for my first job.
First of all, we still applied for jobs by mailing our reels out on DVDs or tapes! Don't worry though, by my second job, YouTube was a thing!
I applied for a few jobs I had no business applying to.
I cringe when I think about it now. I'm sure some of those news directors laughed when they heard my squeaky voice and saw my unpolished on-camera presentation.
My first piece of advice is to be realistic. I'm not trying to crush your dreams, but you're not ready to be in a big market, and you're certainly not ready to be at the network level. I'm sure some of you will get jobs in top 25 markets right out of school, and that's fantastic, but be prepared.
Starter markets expect college graduates. The viewers know they are going to have young anchors and reporters, and sometimes they actually like watching you get better at your craft.
Management in small markets know you're still learning, and they give you a little more leeway when it comes to making mistakes.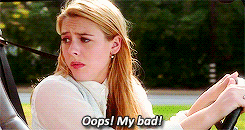 I have a friend who started her career in a 70 market.
She was so excited that she skipped all the typical starter markets, and felt like this was going to catapult her to a network career in record time.
Four months into her position she was pulled off the air during sweeps because the news director didn't think she was strong enough. That ruined her confidence.
My friend ended up leaving the market and going to a 150+ market where management had time to work with her and make her better. She made the mistakes we all make, and she got better at her job.
She's now in her forever market and is well-respected in her business.
My point is, even though a bigger market might seem more prestigious, it might not be the right move for you.
When you do land your first job, be humble. Ask questions of the veterans on the staff and show them that you are ready to learn and work hard.
Don't walk into a newsroom acting like you are the greatest reporter to step foot in the building.
You still have a lot to learn.
You need to learn how to work on a really tight deadline. You need to learn how to work with your new coworkers. You need to learn how to make contacts and break exclusive stories.
This business is not just for people who are "pretty." It's for people who want to work hard, tell incredible stories, and help record history.
As for the pretty girl who was going to be an anchor, she actually did become an anchor in a Top 30 market. She's out of the business now though, because eventually just being pretty isn't enough to help you stay at the top.